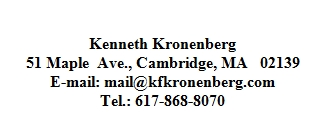 Welcome to Ken Kronenberg's Website.
NOTE: This Website was started on March 4, 1996--quite an oldie by Internet standards. I was the first person I knew to build a Website, and back then I wrote the HTML myself in Notepad by trial and error until it worked. The site has exactly the same "look" as it had in 1996. It's a part of my own history in its form and content. Like an old New England farmhouse with irregular annexes built on to make room for new family members, this site has grown organically to accommodate new material and new interests. It's sprawly and hospitable. It isn't sleek or streamlined, and it has no toolbars or elaborate navigation aids, but to me its architecture is meaningful and worth preserving.
I am a German translator specializing in intellectual and cultural history and 19th- and 20th-century diaries and letters.

The Baltic: A History, by Michael North, Harvard University Press, 2015

* Named a Library Journal Best Book of 2013.

No Justice in Germany: The Breslau Diaries, 1933-1941. The diaries of historian and teacher Willy Cohn (1888-1941), Stanford University Press, 2012 * Nominated for the 2013 Gradiva Award for Best Book by the National Association for the Advancement of Psychoanalysis (NAAP). Pope and Devil, by Hubert Wolf, Harvard University Press, 2010 The Terezín Diary of Alice Ehrmann, in Salvaged Pages, by Alexandra Zapruder, Yale University Press, 2002 The Freedom of the Migrant, by Vilém Flusser, University of Illinois Press, 2003 The diaries, letters, and documents currently gathering dust in your attic connect you to your own history in a way that a family tree alone cannot. These writings may also contain information or first-hand accounts of more general historical interest. In any case, they will help you to understand the personal lives of your ancestors and the world in which they moved. Because of my background and interests I am uniquely able to help you to place yourself and your family in historical context.


A number of years ago I translated documents relating to my grandparents' deportation to Theresienstadt, in 1942.
Presented at the 15th Annual Conference of the New England Translators Association, May 7, 2011.
Presented at the 17th Annual Conference of the New England Translators Association, May 4, 2013.
Presented at the 20th Annual Conference of the New England Translators Association, May 14, 2016.
Translator profile, Translation Journal, October 2013
An Interview with Kenneth Kronenberg, NETA News, Fall 2013
Closing remarks given at the 1st NYU Translation Day Symposium at NYU, October 1, 2016.


See the Mad Translator at work!

This Web site was started on March 4, 1996.

It was last updated on May 16, 2016.